CUSTOM-MADE SOFTWARE DEVELOPMENT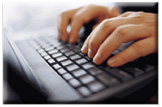 In this new millennium, to compete in the global market you need to ensure that tasks are executed in the most economical way while maintaining high quality. To achive this goal you need to leverage on and take full advantage of the latest technologies.
iNTERACTiVE
develop tailor-made software development solutions that help you reach that goal.
iNTERACTiVE
has provided tailor-made programming services to help customers grow their businesses by increasing their productivity thus accomplish more in less time.
We are certain that we can help your company if you should have any the following questions:-
Does your office spend too much time preparing and processing paper forms?
Are you having trouble "getting at" your data?
Do your employees complain about re-keying the same data into separate systems/similar paper document?
Are you looking for more control over production flow, inventory, and exception reporting?
Is your company outgrowing applications written in low-end languages?
Does your current system crawl along at a snail's pace?
Do you have a temporary shortage of programming manpower?
Are you looking for an experienced programmer to complete your project?

The following are some of the software development projects that our team has involved in:
Developed a Quotation Tracking & Products Search System for (Futuromic Idealink Sdn Bhd)
Developed a POINT OF SALES system for F&B industry (CAFE & PUB)
Developed a POINT OF SALES & Inventory Control system for retails
Equipment warranty and service repair tracking system.
Developed Student Tracking Application for one of the overseas university local office.
Developed a customized medical reporting system for a medical diagnostic equipment supplier (Roche Malaysia).
Developed a customized Call Centre Tracking Application for home and auto assistance provider (Safeway Assist (M) Sdn Bhd).
Developed Will writing software (Quality Credentials Sdn Bhd)
Re-insurance premium calculation software.
Re-engineered Company Secretarial department that involved changes in Statutory forms complying to Companies Act, 1965 for ROC submission.